Trese Leinders-Zufall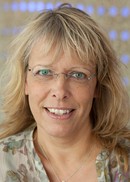 CURRENT POSITION / JOB:
Full professor,
Sensory and Neuroendocrine Physiology, Dept. of Physiology
Center for Integrative Physiology and Molecular Medicine (CIPMM)
University of Saarland, School of Medicine
Homburg, Germany
CURRENTLY LIVES IN:
Homburg
PREVIOUSLY LIVED IN:
Various cities in The Netherlands (mainly Breda and Utrecht), various places in the USA (New Haven, CT; Baltimore, MD), various cities in Germany (south of Frankfurt; Homburg)
FORMER POSITIONS / TRAINING / STUDIES:
Studied Biology at University of Utrecht, Netherlands
Finished PhD degree at same university;
Was research assistant at Organon International (Akzo Pharma, Netherlands)
Erasmus stipend at MPI Biophyics Frankfurt,
Went from young Postdoctoral Fellow to Associate Professor in USA (Yale University and University of Maryland, School of Medicine)
Came back to Europe as W3 Lichtenberg professor (VolkswagenStiftung) and got Full Professorship at University of Saarland.
LANGUAGES:
Dutch, English, German
CHILDREN:
Nikki (young woman)
EXPERIENCES WITH MENTORING PROGRAMS / MANAGEMENT SEMINARS / etc.
Did some courses during my time at the University of Utrecht, was member of Women in Neuroscience of the Socity for Neuroscience, was member/mentor for students/postdocs of the Association of Chemoreception Sciences (AChemS), was speaker at various seminars to help enhance women carreers.
STIPENDS / GRANTS:
Several stipends or grants, including NWO (Netherlands Organisation of Scientific Research), NIDCD which is part of NIH (National Institute of Health), DFG (Deutsche Forschungsgemeinschaft), VolkswagenStiftung;
Was also reviewer of various granting institutes (NIH, NSF, VolkswagenStiftung, DFG, ….)
XING or LINKEDIN or FACEBOOK ACCOUNT:
I have professional accounts on ResearchGate and LinkedIn.
E-MAIL ADDRESS / HOMEPAGE:
trese.leinders @uks.eu; www.physiology.uni-saarland.de/Leinders-Zufall